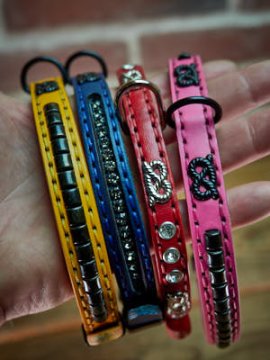 Dog and its sight are a mystery to many people. Some think they are colorblind and see only in black and white. However, that's not entirely true. If you're interested in how your four-legged friends see the world, read the following information.
---

Today, I want to tell you a sad story. In 2016, we had to say goodbye to our best dog friend, Ken. He was a fighter, his whole life he wore the first leather collar we sewed for him at Slade Czech. It was a symbol for him, and eventually, Ken became a symbol and a brand for our company.
---

Hello leather enthusiasts and lovers of the highest quality leather pieces! We have some great tips for you on how to keep your leather treasures in top shape. So let's get started and learn how to keep our leather collars and leashes supple, strong, and water-resistant.
Leather collars and leashes have their charm, but sometimes we wonder how to keep them fragrant and attractive? Well, friends, we have a secret weapon - beeswax! This miracle from our winged helpers is great for leather care and gives it what it needs.
It is 2004. I am buying Ken – my first Staffordshire Bull Terrier. He has also become the mascot of our brand and the guide on our website