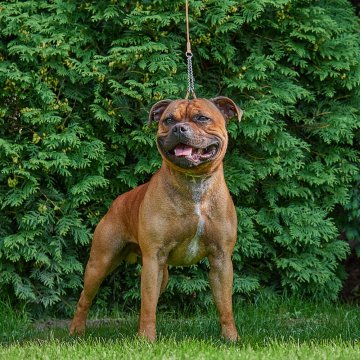 Exhibition events and prestigious dog shows require not only careful preparation and training but also high-quality equipment. If you're planning to attend a show with your beloved dog, don't forget about an important element - the BOWLINE show leash.
The leash is made of a high-quality leather strap, available in widths of 5 mm or 10 mm, ensuring its strength and durability. Its design is well-thought-out down to the smallest detail to meet the demands of the show environment and provide comfort for both your dog and yourself.
The color of the leash should be chosen according to the color of your dog's coat. It is recommended for the leash color to harmonize with the coat color, creating an aesthetically pleasant and harmonious overall impression.
The BOWLINE show leash is equipped with a metal swivel clasp that separates the lower and upper parts of the leash. This clasp prevents the leash from twisting during handling, ensuring smooth and elegant presentation of the dog. The combination of the collar and leash creates a perfect ensemble that guarantees safety and comfort for your four-legged friend. Its lightweight and slim profile ensure that the leash is almost invisible and doesn't restrict the movement of the exhibitor or the dog itself.
When choosing the width of the leash, it is important to consider the nature and size of your dog. Smaller dogs with a delicate build may be suitable for a thinner leash with a width of 5 mm, while larger and stronger dogs may benefit from a leash with a width of 10 mm, providing them with sufficient strength and control.
The end of the BOWLINE show leash is finished with a collar featuring a sliding leather slider. This practical slider allows you to easily tighten the collar as needed, ensuring that the dog remains secure and safe in the loop. Thanks to this design, it is not necessary to tighten the collar excessively, and the dog feels more comfortable throughout the entire show.
BOWLINE show leashes are not only functional but also aesthetically pleasing and a professional choice for every dog exhibitor. Choose the right width of the leash, select a color that matches your dog's coat, and let your dog shine at every show.