Engraved Metal Dog Tags and Collars
FOR ALL PROSPECTIVE RUNAWAYS
Do not fall prey to the illusion that your dog will definitely never run away. It does not even have to be the dog's fault. For example, he could get lost in a crowd. He could start chasing a hare across the field or, just for once in his lifetime, taste freedom by crawling under the damn fence. What then? You run around the streets, call your dog's name, drive around the shelters and post up posters with his photo on pillars. And it gets worse by the day. Because your beloved barking pet is missing. You try to calm yourself with the assurance that he is surely in good hands, but somehow you suspect that much more disastrous scenarios are also possible.
Meanwhile, it is so easy to be prepared for similar emergency situations. Just arrange for a quality dog tag. Not the kind of tube with a paper which gets lost in the first bush. A genuine metal tag which withstands rough terrain and provides all the necessary information to the dog's finder. What is it advisable to have engraved on the tag?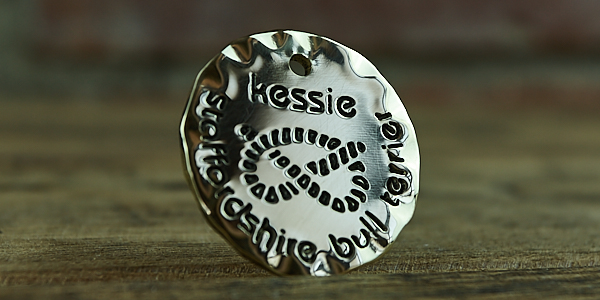 In our Slade Czech workshop, we've had very good experience of owners who have their address and phone number engraved on the tag. Or even two phone numbers! And if there is any space left, it is also appropriate to add the dog's name. So the possible finder will know what to call him and how to calm your pet. Rest assured that your darling's escape to freedom is as stressful for him as for you. He is homesick, hungry, mistrustful of strangers. The best you can do for him is to attach a proper dog tag on his collar and never take it off. See our range of dog tags. You can certainly choose one that is the most suitable. Just like thousands of Staffie owners who walk their dogs with a clear conscience.
Do you have a puppy? Puppies do not run away so often, because they feel a respect for the outside world and would rather stay in the safety of their pack. But maybe you have a Snoopy at home, who tries to escape from his first steps. Get him a leather collar fitted with a metal plate engraved with your telephone number. It is light to wear, does not pinch and, in addition to looking great, also has this safety feature in case your pup runs away despite all odds.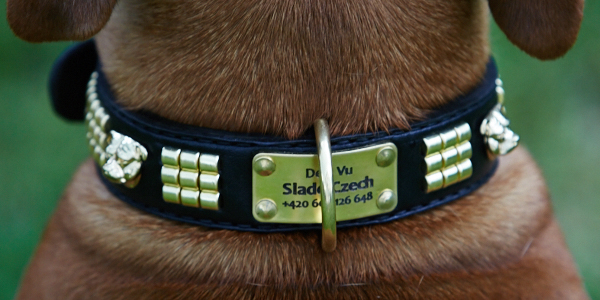 And whether you have confidence in your puppy or simply guard him with your life, have his name written on the collar. At least everybody will stop asking you what your new baby's name is!
Read the Slade Czech blog.
Petr
From the Slade Czech Saddlers' Workshop