Manufacture of leather belts.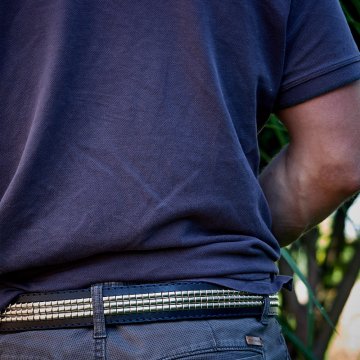 Ah, the humble leather belt! The production process is a bit like a wild west showdown between man and beast, but with a little less gun-slinging and a lot more tanning.
First, the cow is called to the saloon (aka the slaughterhouse) and put out to pasture (aka put out of its misery). The cowhide is then removed from the body and taken to a nearby tannery, where it's treated with all sorts of potions and elixirs to turn it into leather.
The leather is then stretched, cut, and punched with a variety of tools and gadgets, which can make it feel like the leather is getting a good old-fashioned cowboy whoopin'. But fear not, the leather is a tough old hide and can take a lickin' and keep on tickin'.
Finally, the leather is dyed and adorned with buckles and studs, transforming it into a stylish and sturdy belt that can withstand all sorts of cowboy shenanigans. And there you have it, partner, the production of a leather belt!