Who's Who? Bull-type Breeds
Do you know what bull-type dogs have in common? That's right - they have a bull-like head! But that's not the only thing that unites them. Let's take a closer look at what it means to be a bull-type dog and what sets them apart from other breeds.

Bull-type breeds are a group of dogs that share certain physical characteristics. They have a short, strong, and compact body structure, bull-like heads, and short, sturdy limbs. In addition to these common traits, however, individual bull-type breeds are very different.

American Pit Bull Terrier
The American Pit Bull Terrier has no official breed standard. Breeding and selection have always been and are done based on fighting ability and balanced temperament, not appearance.
Pit Bulls can come in various colors and sizes, with height always being in proportion to body weight. The weight range for males is 17-28 kg and for females is 15-25 kg.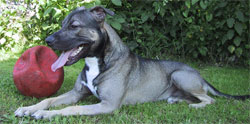 American Staffordshire Terrier
The American Staffordshire Terrier is a bred-down version of the American Pit Bull Terrier. The breed standard determines their show appearance.
Males should stand 46-48 cm at the shoulder, and females 43-46 cm. Size and weight should be in proper proportion to each other. The breed standard doesn't prescribe any weight limit, but it generally ranges from 20-35 kg.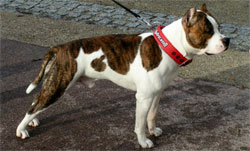 Staffordshire Bull Terrier
The Staffordshire Bull Terrier is a smaller dog with a big heart. They make excellent family pets, breaking your heart with their courage, playfulness, affection, and tenderness. Their appearance is determined by the breed standard.
Males should stand 35.6-40.6 cm at the shoulder, and their weight should range from 12.7-17.25 kg, while females should be between 10.9-15.4 kg. The Staffordshire Bull Terrier is well-balanced and very strong, a true canine bodybuilder.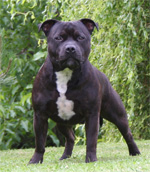 English Bull Terrier
The English Bull Terrier looks nothing like the previous three breeds. However, people often mistake their name and confuse the different breeds with one another.
Bull Terriers are strong and muscular dogs with their characteristic egg-shaped head. Their appearance is determined by the breed standard. There are no height or weight limits, but Bull Terriers are typically 35-45 cm tall and weigh between 20-25 kg.