Why show your dog in an original Staffie leather collar?
A DOG SHOW IS A GREAT SOCIAL EVENT. DISCOVER NEW PLACES AND MEET NEW FRIENDS
Dog Shows have a long tradition. Since 1935, when Joe Dunn established the Staffordshire Bull Terrier Club, breeders have exhibited their Staffies in traditional collars. Why? Because of their characteristic feature – the pretzel or knot. For this reason, Staffie collars differ from the collars of other breeds.
The market currently offers several types of collars – made of round or cut leather, entire collars in leather, or chain versions. It depends which one suits your four-legged friend the best, or what the occasion is for your dog to wear the collar.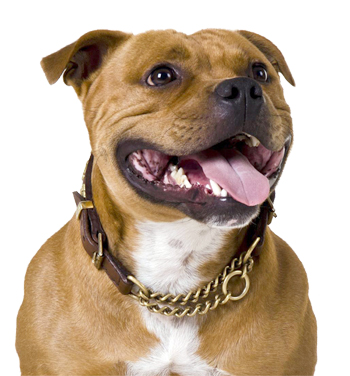 WHAT TYPE OF COLLAR SHOULD BE CHOSEN? THINNER FOR A SHOW, STRONGER FOR THE COUNTRYSIDE
For a Show, preferably choose a thinner collar for your dog. In spite of the hefty, muscular Staffie build, wearing this collar effectively shows off his softness and especially his manageability in the ring.
When walking in the countryside, put a stronger collar on your Staffie. Select from collars with decorations – the pretzel, knot or silhouette of entire Staffie figure or just the head.
A Staffordshire collar with the classic knot is not merely a fashion accessory or a fad. Above all, it proves, honours and preserves the history of this beautiful breed. That's why it should not absent from the wardrobe of any Staffie.
Good luck for your next Show!
Read the Slade Czech blog.
Tana
From the Slade Czech Saddlers' Workshop