It is 2004. I am buying Ken – my first Staffordshire Bull Terrier. He has also become the mascot of our brand and the guide on our website.
But which collar and lead should I buy for Ken? As I am deeply interested in this breed I know that Staffordshire Bull Terriers have their own symbol: decorative identical features. But I was not successful in finding such a lead and collar.
However, while looking into Ken's sad doggie eyes, an idea in my head was born: I'll organise the manufacture of a lead and collar with characteristic Staffie symbols on my own!
TOUGH BEGINNINGS, HORSE AS A ROOMMATE
The beginning was hard. I knew nothing about the craft. The first saddler I found loved alcohol more than his work. The quality of his products was in equal proportion to the amount of spirits he consumed.
After much effort I found a true saddler who would teach me the craft in the Beskid Mountains. He was an old eccentric. He walked barefoot on principle throughout the year; his best friend and at the same time roommate was a horse.
But the saddler played his craft brilliantly. A wizard with years of experience, he could perform miracles with leather in his hands. He took me on and trained me! I diligently visited his workshop, absorbing information and advice for the entire year I learnt the craft.
KEN ALREADY HAD HIS EQUIPMENT — FRIENDS WANTED IT ALSO
I had enough information and many hours of practice. Ken already boasted his new collar; we used to set off for walks with a decorated lead. People liked the hand-stitched accessories: other breeders of Staffordshire Bull Terriers also wanted them for their doggie friends.
And so I began to custom manufacture leather products under the brand of Slade Czech.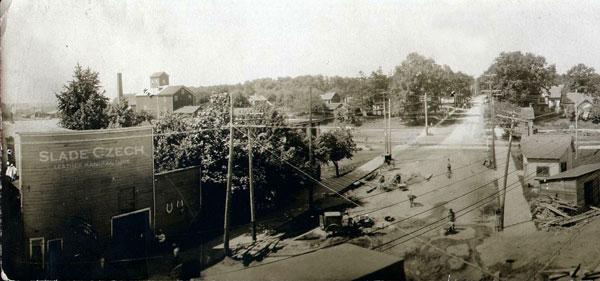 SLADE CZECH SADDLER'S WORKSHOP GREW
As time went on, I was not able to do all the work on my own. After around two years, during which time I'd manufactured every order myself, my son Adam joined our team. He gradually took over the entire manufacture and the running of the workshop. My wife Tana takes care of shipping and communication with customers.
And what about me? I continue to be engaged in design and development of new products. We've taken on more staff and trained other saddlers. Our workshop is booming, our customers are satisfied and of course, their dogs as well. This makes us very happy and at the same time motivates us to develop the business further.
LOVE FOR THE CRAFT – QUALITY FOR 99 YEARS
We use only the best materials during manufacture. We process them with love of the craft. Before it leaves our workshop, each manufactured item goes through several pairs of human hands.
The quality of our products is only as good as people who make them. This is the reason why we employ the best.
We take pride in our work. That is why we can provide a proper guarantee of processing and material defects on our leather products: a lengthy 99 years.
You ask for how long you should keep a guarantee certificate? No time. If any claim should ever happen, our clients do not need any document. We can recognise our work.
WE CARRY ON CREATING
What's next? We're optimizing processes, developing new models, watching current trends and above all we are following our clients' and their four-legged friends' needs. Don't hesitate to write and let us know whatever is your wish.
Do you know which accessory will suit your doggie friend best?
 Petr Sladecek, Slade Czech founder